Fascia and Functional
Movement Specialists
We use Functional Movement Assessments, Chiropractic, Active Release Technique and Rehab exercises to properly diagnose and treat our patients.
Chiropractor Redondo Beach CA
Welcome to Pro-Active Wellness Center located in Redondo Beach, CA. We are fascia and functional movement specialists combining multiple treatment methods to maximize pain relief in muscles and joints. Our approach is to focus on soft tissue and joint manipulation along with functional rehabilitation to improve biomechanics and overall musculoskeletal health. Our Redondo Beach chiropractor has a goal to get you as close to 100% as fast as possible so you can continue to stay active and continue to do what you love to do. A key component to overall health and wellness is the ability to move well pain free and that is our goal for our patients at Pro-Active Wellness Center.
Welcome to Pro-Active Wellness Center
I became a chiropractor after I was involved in a car accident in high school. I was rear ended and immediately felt lower back pain. I went to multiple doctors and received numerous treatments that didn't help and gave me no relief from my chronic pain. After years of suffering and trying every treatment I could think of, I discovered a soft tissue treatment called Active Release Technique(A.R.T.). A.R.T treatments gave me so much relief, I decided this is what I wanted to do with my life. After years of receiving treatments that didn't help, I felt like I finally discovered a treatment that gave me tremendous relief in such a short period of time.
I decided to open a practice in Redondo Beach because it seemed like people in this area were very health conscious. People in Redondo Beach tend to be very active and participate in outdoor activities and I knew that with an active lifestyle came injuries. I thought it would be a perfect community to promote A.R.T. as i noticed there weren't many practitioners here. Anyone who plays sports and works out regularly but also sits a little too much would benefit from A.R.T. and I thought this community would be perfect for our multidisciplinary approach.
Symptoms we treat in Redondo beach that may help you
We specialize in treating chronic pain involving soft tissue and their associated joints. Soft tissue includes muscles, tendons, ligaments, nerves and the fascia that connects it all. Common conditions we treat are neck pain, low back pain, shoulder pain, hip impingement, rotator cuff injury, plantar fasciitis, carpal tunnel syndrome, TMJ pain, headaches, tennis elbow, patellar tendonitis, achilles tendonitis, piriformis syndrome and many more.
Why Pro-Active Wellness Center?
What sets our office apart from others in Redondo Beach is that we specialize in treating the fascia utilizing Active Release Technique(A.R.T.). The fascia is part of the soft tissue system that encapsulates and entwines muscles, tendons and ligaments as it attaches to our bones. What gives our body the strength to stand and not fall when someone pushes us is our fascia. When our muscles hurt or we have "knots" in our shoulders, that pain is coming from unhealthy fascia. Through injury, repetitive movements or long periods of tightness our fascia becomes scarred or adhesed. A.R.T. is a treatment that breaks up that scarred fascia which makes the soft tissue healthier and less painful.
What also sets our office apart from others in Redondo Beach is that we combine A.R.T., chiropractic, massage, acupuncture and functional rehabilitation to approach pain relief much more comprehensively. From personal experience, doing one treatment at a time was not enough. Combining multiple treatment methods almost always has a better outcome. If just one treatment is all that is needed to resolve your pain, consider yourself lucky. Anyone with chronic pain who has tried many different treatments may want to try this comprehensive approach that we offer.
Common Misconceptions of Chiropractic Care
The most common misconception people have in my city about chiropractic is that all we do is adjustments on the spine. There are plenty of chiropractors that practice this way but not all do. There are a variety of chiropractors and just because you have one experience with one chiropractor does not mean you will have the same experience with another chiropractor. Many years ago, chiropractic and physical therapy were two distinct disciplines. Now the lines are getting blurred and many chiropractors are combining different treatment methods that are more effective.
Another misconception about chiropractic is that once you start going, you have to go for the rest of your life. This is not true. Many of my patients get better and they never come back. But many do come back on a regular basis only because it makes them feel better. We get our teeth cleaned every 6 months but no one complains that we have to go to the dentist for the rest of our lives. Oil changes will also be part of our lives forever as long as we drive. My patients who come in on a regular basis are those who sit all day, play sports or are very active and realize the benefits of getting treated regularly. Coming in for treatment is like eating healthy. You don't have to do it but when you do, it only benefits you.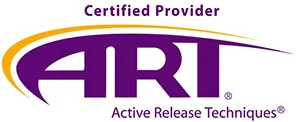 Active Release Techniques
Our doctors are certified practitioners of A.R.T., which is designed to "comb out" adhesive scar tissue. LEARN MORE HERE
Services Our Office May Help with